A human brain is designed in such a way that it doesn`t like to stress itself with complex information that is not vital.
When guests enter a hotel room for the first time, it`s difficult for them to understand the correspondence of numerous switches and lamps, the climate settings and control panels. All this takes away plenty of time that is supposed for leisure or business matters.
A simple, intuitive application interface of Larnitech App replaces all remotes and switches at once! Even an amateur in technology can easily control all devices in the room from one gadget: lighting, climate, curtains, multimedia.
While clients enjoy staying in the hotel, Larnitech numerous scenarios will anticipate their desires and free them from a great share of routine tasks.
All this evokes in a guest that very precious feeling that all prestigious hotels are so chasing: feeling like home! A comfortable stay of guests will certainly make them want to come back again and again and recommend the hotel to their friends!
With Larnitech Smart Hotel, everyone gets what they want:
Developers
The best price on the market, easy and fast installation, German quality and guarantees.
Management
Saving resources, as well as full control of their premises at any time: statistics of consumed resources, guest lists, warnings about any malfunctions.
Guests
Maximum comfort, technologically advanced accomodation and increased safety.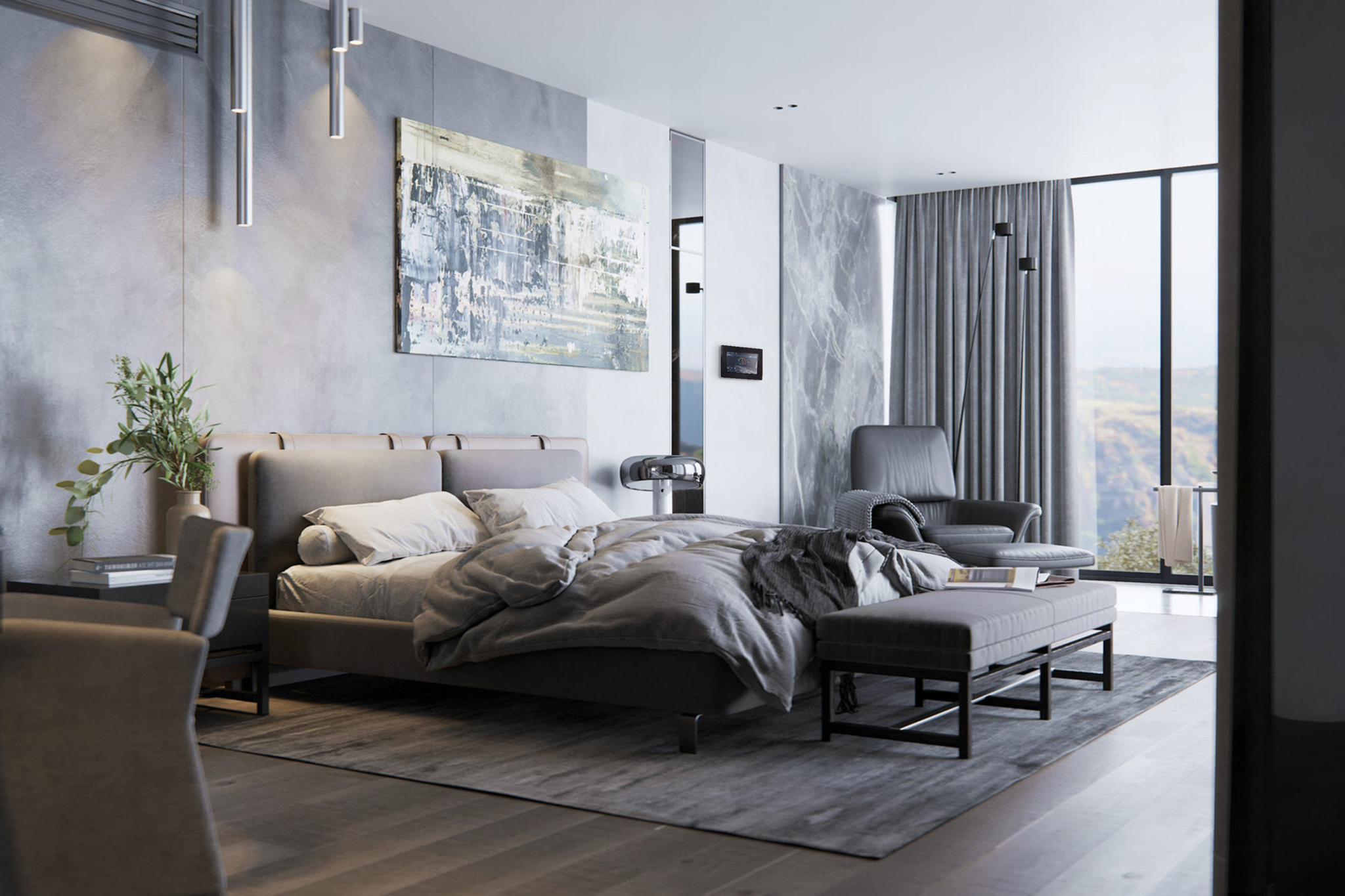 Remote control – all systems can be controlled from the Larnitech application on a tablet or phone.
Lighting control – you can change the saturation, lighting combinations, as well as the color of the LED lamps.
Climate control – the system automatically adjusts the ideal temperature, humidity and ventilation.
Heating control – various heating modes, automatic activation of the energy-saving mode.
Blinds and curtains control – from a tablet or by voice, as well as according to the schedule: curtains will open and close at the set time.
Pre-sets scenarios – "Welcoming  the guest", "Good morning", "Romantic", "Reading" and many others. The ability for guests to create their own scenarios that the system will later remember and repeat.
Voice control of all systems – it's easy to tell the voice assistant to open the blinds or to make a temperature a couple of degrees higher.
Media control – easily play music and movies on your TV from the app or with your voice.
Multiroom – through the built-in speakers, the system allows to play personalized welcome messages upon check-in or notify the guest of an emergency.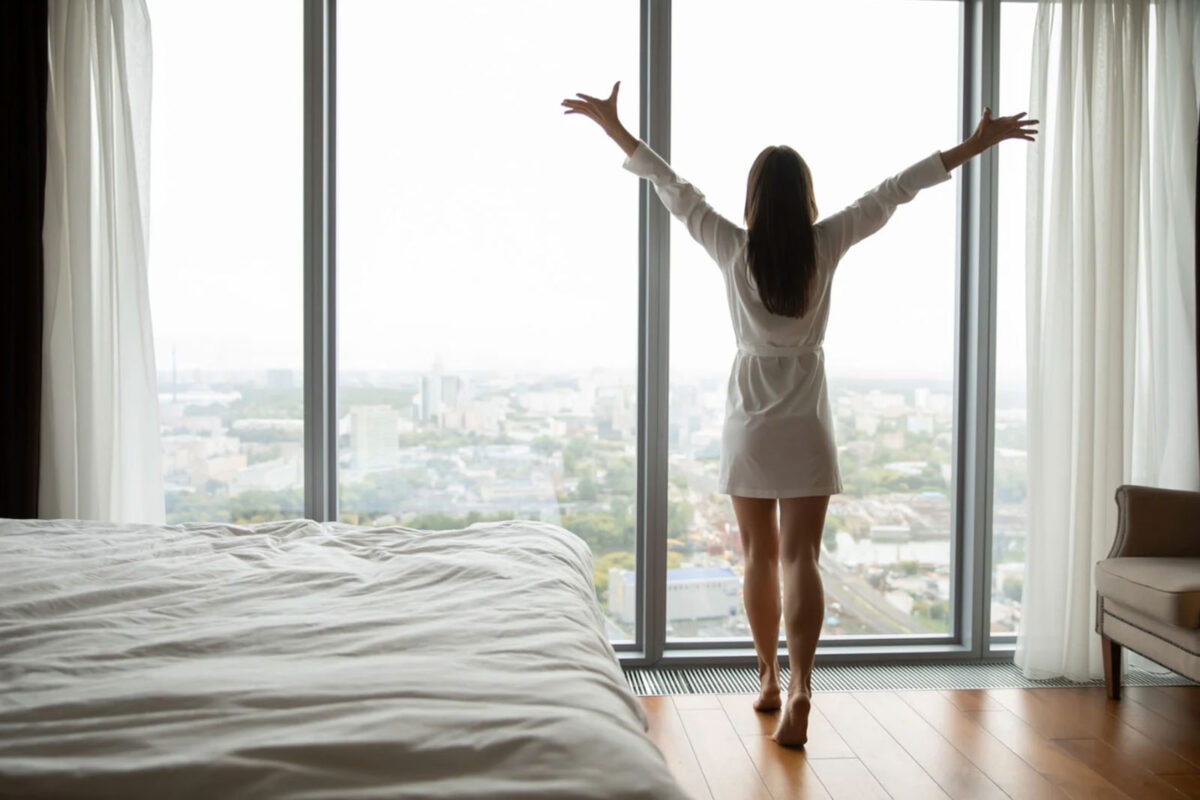 Full access control of the premises
Control of windows and doors opening
Integration with video surveillance system
CO2 level control
Electrical appliances switching off when visitors are not in the room
Water leakage control – in case of a leak, the water supply will be automatically shut off and the hotel management will be immediately informed about the incident
AUTOMATION OF THE WHOLE HOTEL COMPLEX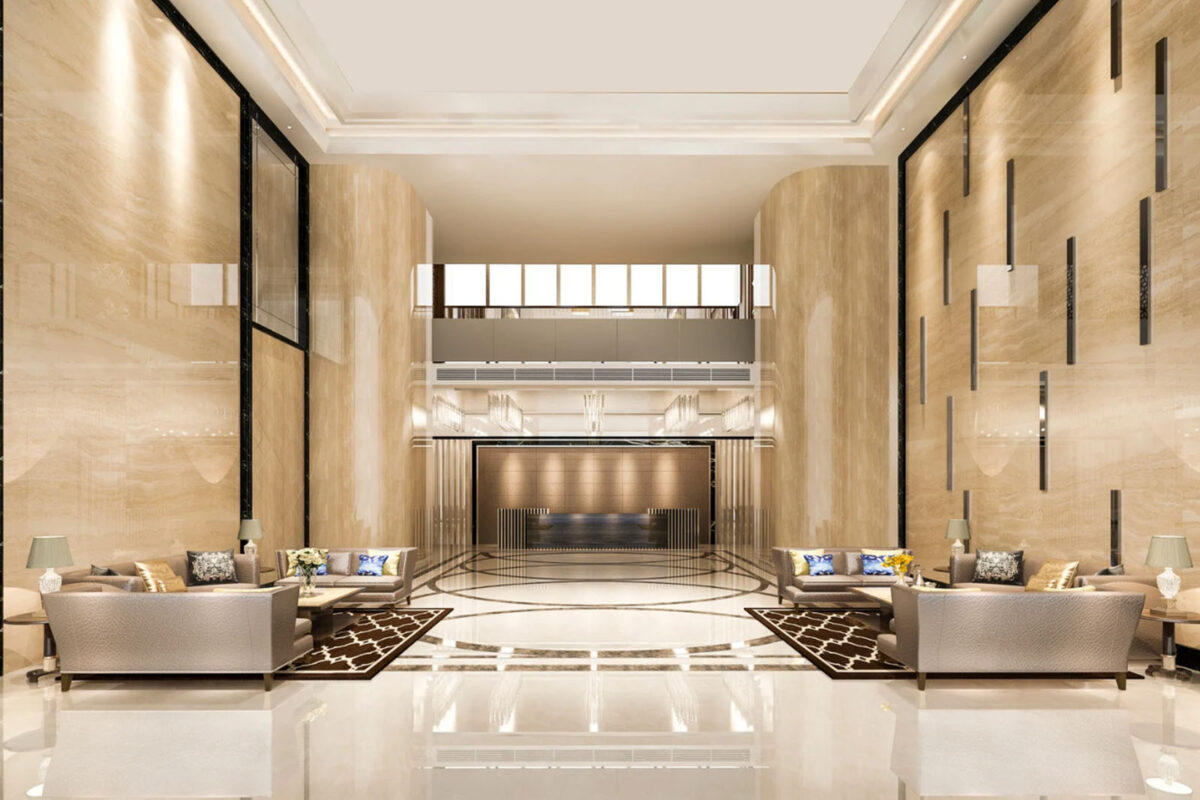 Lobby and public area access control
Performance monitoring of all engineering systems
Lighting and climate control in public areas
Full control of  SPA area
Adjustment of filters and drain systems in a sauna and pool area
Informing guests about the status of booked services and sending them invoices via tablet
Engineering systems are controlled and managed automatically
The ability to control each room and prepare it for a guest – heating or cooling, selecting a language of the interface on a tablet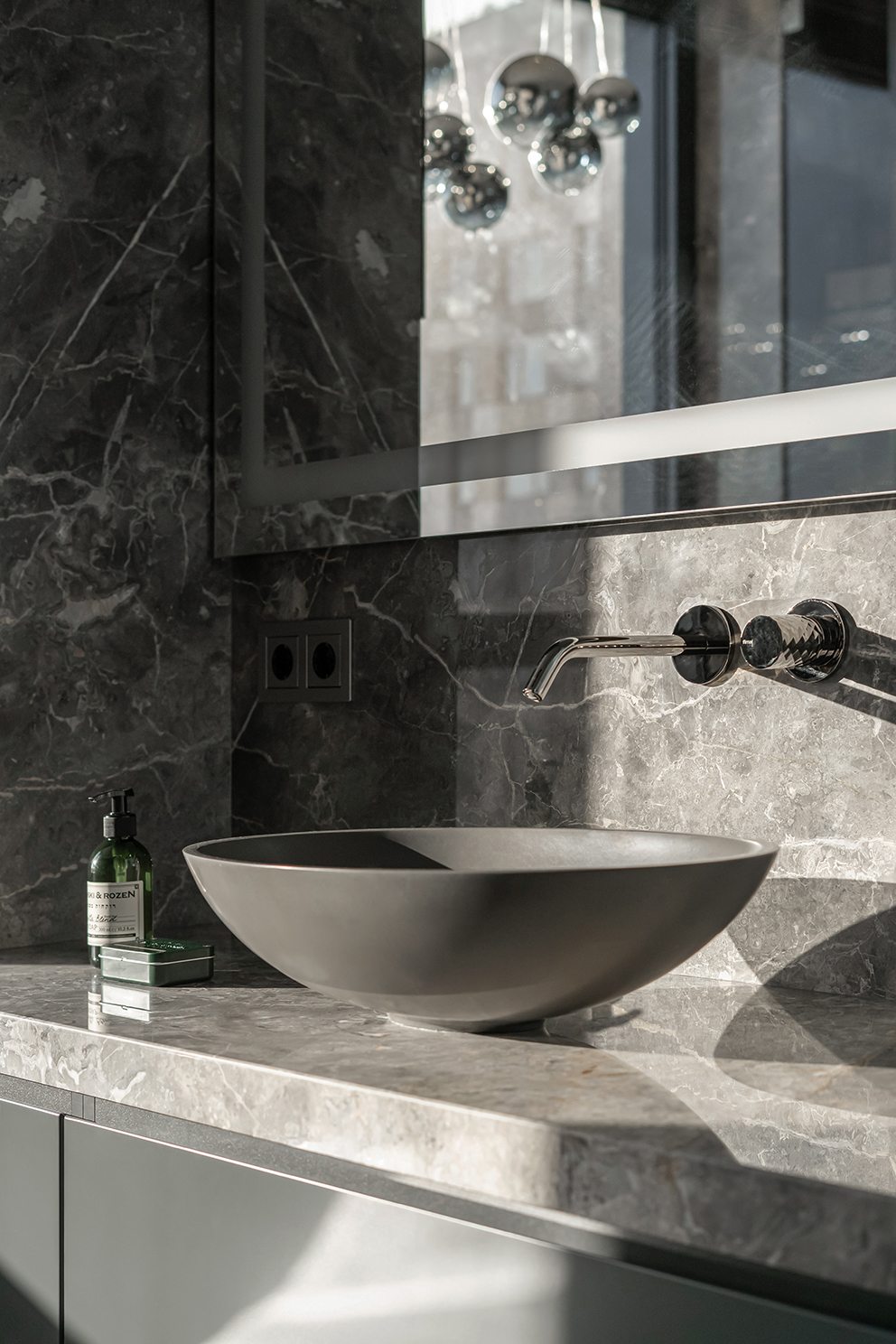 RESOURCES SAVING
Detailed energy consumption statistics
Control of consumption limits
Automatic activation of energy-saving mode – turning off lights and appliances in the absence of a guest in the room
Energy saving due to automation of lighting, heating, air conditioning of non-residential and public premises
Coordinated work of all systems reduces the cost of building operating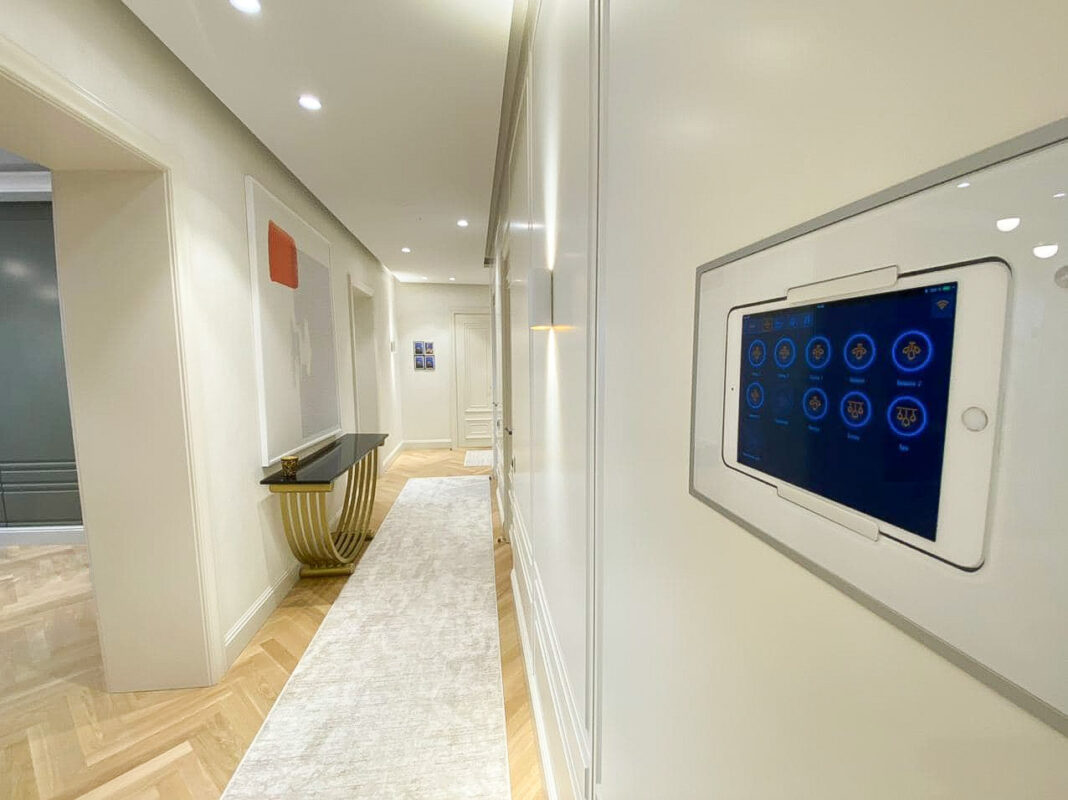 Small-sized products that don't take up much space and don't spoil the design
Our system integrates with accessories from any manufacturer
Easy and fast installation – plug&play
Multi-languages Larnitech support
The equipment is always available in stock
There is no limit on the number of users in one system – no need to pay for additional licenses
Spend more time welcoming your guests and catering for their needs and less time thinking of day-to-day building maintenance tasks. Let Larnitech Smart Hotel take some of the stress off your shoulders!
Get status information on all rooms and hotel engineering systems whenever you like. Engineering systems are monitored and managed automatically, unless your attention is required.
A Smart Hotel system is a modern answer to the needs of the most demanding guests of your hotel, inn or resort. This is a new level of security that will ensure the safety of your guests and their property.
The Larnitech Smart Hotel system is based on its own data network. The main control unit, i.e. the server, allows full control and management of the hotel via the Internet. Therefore, it is enough to have a smartphone, tablet or laptop with Internet access to control the operating status of the entire hotel from anywhere in the world. You can check what is happening on site, as well as turn on / off any device or system connected to the system.
A smart home in a hotel is a concept that has been around for some time but it is only now being implemented. There are many benefits of having this system installed in hotels, including convenience and comfort for guests.
The first benefit is convenience for guests. Guests can control all appliances in the room with the use of a smartphone or tablet, which means they don't have to worry about carrying several remotes with them or searching through piles of buttons on the appliance itself.
This automation also makes the process much more efficient and convenient for staff members as well because they no longer have to go to each room to make sure everything is turned off at night before going home.
The second benefit is comfort for guests. A Smart Home system can provide the ideal atmosphere by setting the appropriate level of interior lighting, automatic closing of curtains, blinds and roller shutters, switching on music or a movie for a nice evening.
A smart home can be programmed to adjust the climate based on what season it is as well as regulate air humidity, ventilation and heating level.
The third benefit is security: the intelligent building security system reduces the risk of burglary and accidents thanks to video surveillance, alarm and motion sensors. Smart Home system also controls leakages, fire, CO2 level and whether doors and windows are closed.
Of course, everything is done automatically – the system is calibrated, and the control panel is adjusted to your expectations and requirements. If something needs to be done manually, then any manager to whom you grant access can easily cope with the intuitive interface of the application.
Integration of the smart hotel system allows to entrust the solution of most problems to highly efficient electronic systems, taking into account the requests and wishes of each customer. From now on, you will spend your attention exclusively on the guests of your hotel and not on the routine tasks.