The modern world is experiencing an unprecedented boost in the sphere of IT. We, at Larnitech, are fully aware of this trend and are doing everything in our power to provide our own share of innovations in the field of smart house technology. We strive to become a leader in our market niche. Through our high-tech environment-friendly products, we contribute to saving the world's natural resources and fulfil our mission of developing modern housing that combines progressive ideas, comfort and safety.
Who we are
Larnitech is a German manufacturer of equipment for automation of private and commercial premises. We are sure that everything that is done manually in your home can and should be automated.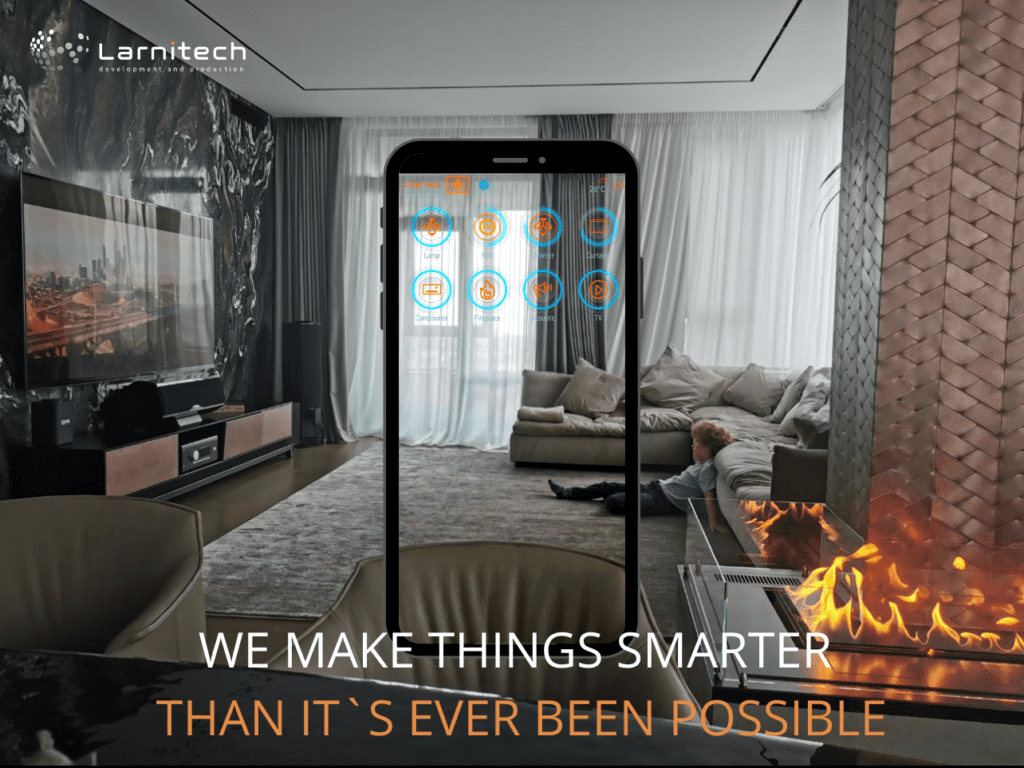 "Smart" home solutions from our company are a single control and management system with a convenient and accessible interface. We produce a decentralized wired Smart Home system that runs on a CAN-bus and stands out among others with its response speed. We also developed our own Larnitech application, which allows you to control the system from mobile devices.
The application is suitable for iOS, Android, Linux and Windows and can be downloaded from the App Store and Play Market. The intuitive interface of the application with many functions and features is so easy to use that even a child can easily master it.
Solutions from our company are effective and at the same time simple, like the famous LEGO constructor. We offer a set of elements from which you can make minimal automation with basic functions or a very progressive one with the maximum amount of features.
Larnitech Smart Home is:
comfort in your home
safety from penetration, leaks and fires
saving resources and time
With Larnitech, you don't take care of the house, it takes care of you!
Our history
Larnitech was founded in 2014 in Cologne, Germany. During the first years of our activity, we produced equipment using our technologies, but at outsourced factories. In 2019, we launched our own production, opened a full-cycle plant and moved from Cologne to Freudenberg.
During this time, three generations of smart home equipment have been developed by our specialists. Currently, our products are imported to more than 20 countries around the world, and the number of installed smart home systems has exceeded tens of thousands.
What distinguishes us from our competitors?
Our equipment is simple, but at the same time – efficient and easy to install. The components of the system work on the principle of Plug&Play – quick setup and launch, which takes much more time for other systems.
We offer:
high quality
affordable price
wide functionality
customization for each client
simple programming system
online support and the ability to remotely configure the system by our specialists
Another distinguishing feature of our system is that it constantly monitors itself for errors. When a problem occurs, often you will not even know about it, because our dealer will see an error notification in the dealer panel and remotely correct it.
We also offer a unique solution on the market – the Metaforsa kit. This is a universal set with basic automation features. It's easy to install and ready to use right out of the box.
We use both a wired communication system, which is more reliable, durable and not exposed to external influences, and a wireless one.
Wired System
All the devices are connected via data buses. The main advantages of this system type are:
High responsiveness, a fast and reliable way of data communication
Easy installation
Wide range of equipment
Efficient security features
Long period of service
The system has no battery-powered devices which require regular battery replacement
Wireless System
This type of system uses a radio channel used to transfer the signals from the controller device to executive units.
The main advantages of this system are:
Substantial saving – when installing the system there is no need to lay wires, which reduces the cost of consumables and work
Flexible and easy system installation
Possibility to easily expand the current system
Benefits of working with a company
Why should you install our smart home system?
We use in our work the most modern European equipment, which we produce at our own full-cycle factory.
Our dealers are professionals with many years of experience who will install the system as quickly and efficiently as possible, taking into account all your wishes.
Remote access for installation: all changes can be made without going to the site.
The functionality of our devices allows you to control all aspects of management in your home, apartment or office. Sensors will give a signal when a water or gas leak is detected, motion sensors will turn on the cameras, and you will receive a picture on your smartphone or tablet in case of unauthorized entry.
The user also has the ability to control the lighting system in each room, turn on electrical engineering, air conditioning or a music center according to the schedule. Moreover, all this can be done both directly on the premises and remotely – for example, on the way home.
Smart home control is performed from any device – you can use a smartphone, tablet, laptop or even a smart watch. A unique application developed by our company to control the functionality of Smart Home, as well as a ready-made solution "out of the box" allow you to turn your home into a modern, multifunctional and comfortable space for living and working.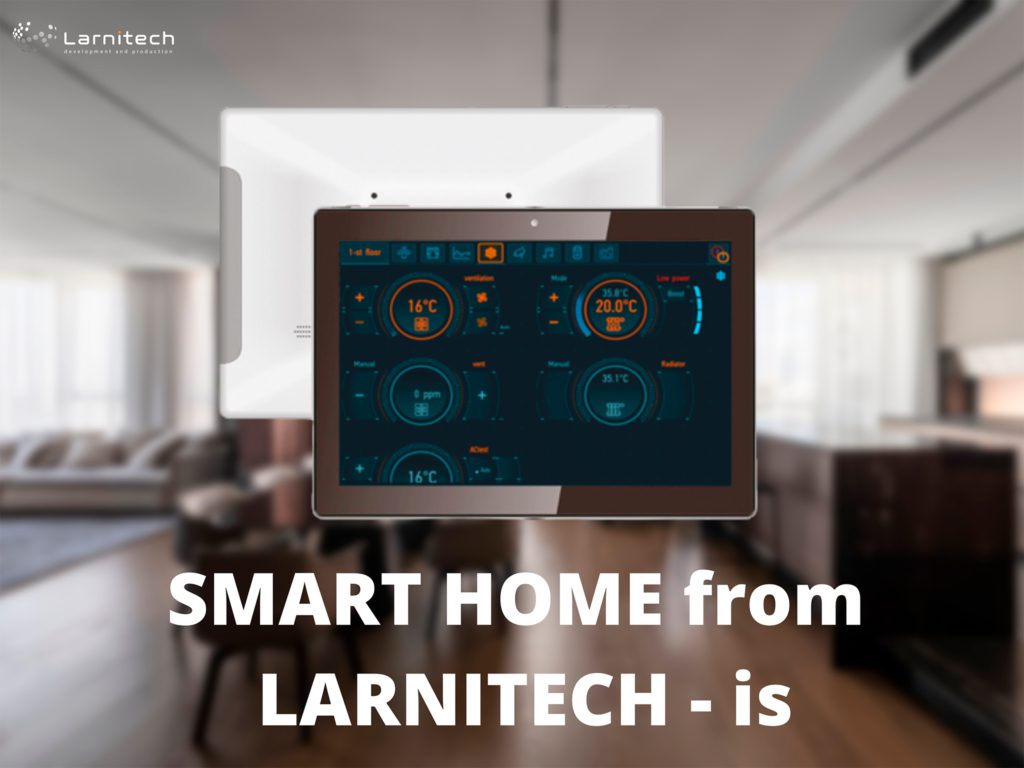 INTERFACE MODULES
A single perfect system, from the simplest sensor to software and web service.
The interface modules provide the integration of various devices in a unified automation and control system (solar panels, metering devices, heat pumps, etc.).
HIGH QUALITY MODERN COMPONENTS
High-tech and environmentally friendly products that do not take up much space and do not spoil the design.
The use of quality components has allowed us to expand the functionality of our equipment and reduce its size, weight and power consumption to a minimum. The system uses micro-sensors and compact control units that will not affect the interior of your home.
RELIABILITY
German quality and 2 year equipment warranty
Based on the "distributed logic" principle, our system does not have a central unit, which increases its reliability. If a controller, module, or sensor freezes, all other devices will continue to work. Individual network components communicate with each other and perform their own functions based on the information received from other units.
MESH technology was used to create the wireless system. All the system components interact with each other in order to get the job done in the most efficient way.
SYSTEM FLEXIBILITY
Due to the distributed logic, the system is easily expandable, and allows you to connect many different devices, thus extending the system functionality. Users can change certain system settings without specialist assistance.
SAVING RESOURCES
Saving up to 30% of energy resources allows you to quickly return the investments in a smart home.
Smart Home integrates all systems, ensuring uninterrupted and efficient operation. Energy efficiency is achieved primarily through the automation of lighting and microclimate. There are several options for setting up the system, including: using motion sensors, calendar data, special settings, individual for different areas of the house, etc. Sensor statistics and the use of electrical appliances can be used to optimize electricity consumption.
Larnitech offers you high quality home automation solutions at affordable prices! Make your life even more comfortable, convenient and safe, with a home that will take care of all this for you!