METAFORSA – A READY-MADE SOLUTION FOR SMART HOME
This ready-to-install set consists of a basic module and sensors and is perfect for automation of residential and commercial premises, as well as hotels.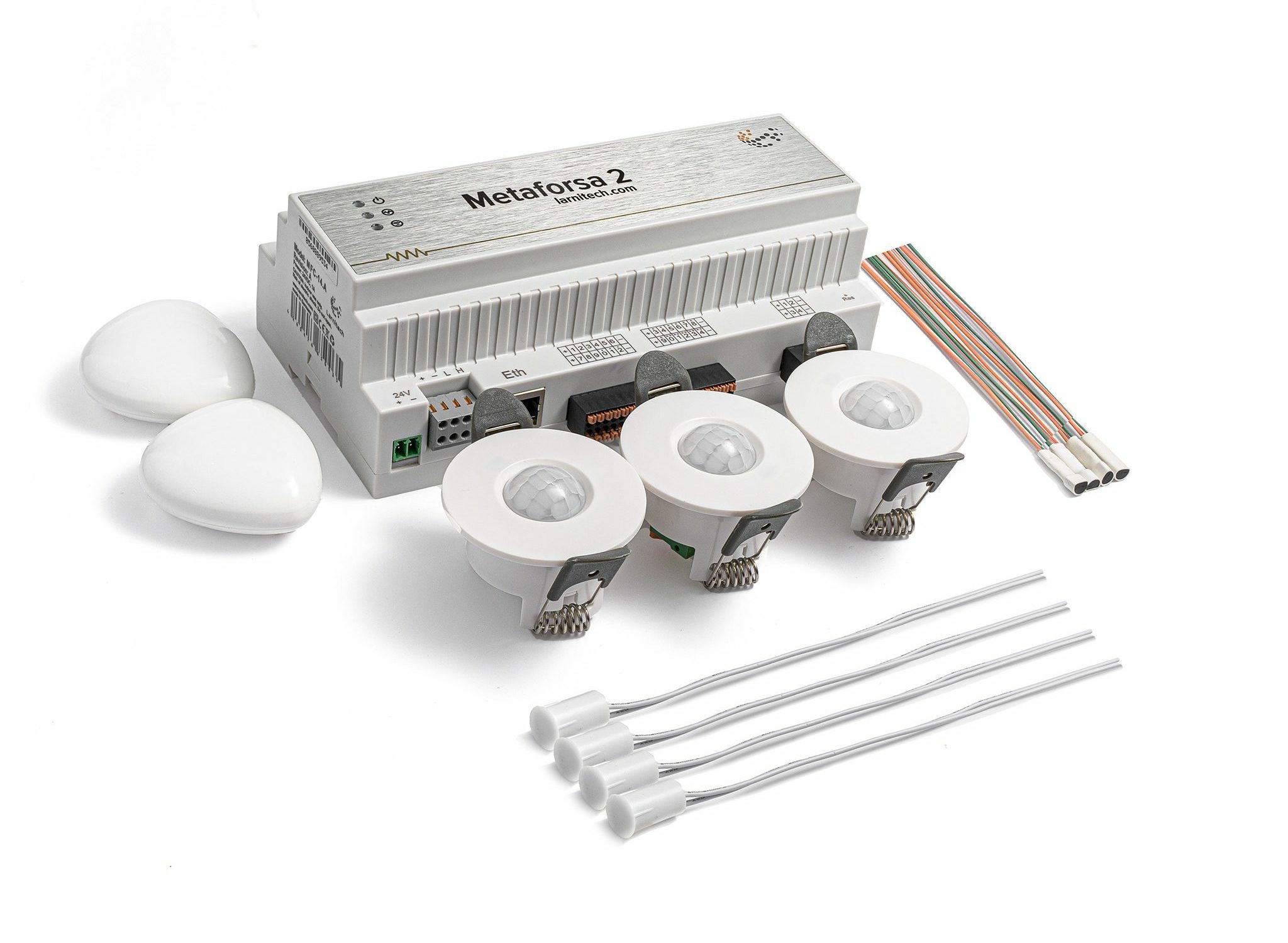 Metaforsa is a comprehensive economic solution that provides all the main functions of a smart home. Enjoy comfort, safety and energy savings with the Metaforsa package solution from Larnitech!
Main module Metaforsa includes:
10 relays, 4 dimmers
24 inputs for switches and sensors
8 inputs for temperature sensors
EASY INSTALLATION AND SETTING UP
The installation and setting up process is a simple one. Metaforsa can be set up with the help of a regular tablet. Furthermore, no special programming skills are required for this.
EXTENSION PORT
The extension port allows to increase the system functionality by connecting additional equipment, like LED or dimmable lights, metering devices and others.
FLEXIBILITY
The availability of universal inputs/outputs allows connecting a variety of devices and sensors by third-party manufacturers (air conditioners, ventilation systems, sauna equipment, etc.).
MODERN AND USER-FRIENDLY INTERFACE
Managing the Metaforsa Smart Home system is easy. You just need to install our application on your smartphone or tablet: applications are available in the App Store and Play Market.
REMOTE ACCESS
With your tablet or smartphone, you can always change the settings of the climate control systems, check whether the window is closed, or switch off the light you forgot, even if you are thousands of kilometers away from your home.
AUTOMATIC NOTIFICATIONS
Your Smart Home can send text messages and voice notifications concerning events or emergency situations (triggering of the security system, water leakage, exceeding of specified sensor thresholds, etc.) to your mobile phone.
IP CAMERAS INTEGRATION
This feature allows you to view the images from the cameras in your house online.
PROTECTION FROM WATER LEAKAGE
In case of a water leakage, the system automatically blocks the water supply and informs the owner of the incident.
COST-EFFECTIVE SOLUTION
The use of the up-to-date components and the availability of the most popular functions in Metaforsa ensure a great functionality-price balance. This Smart Home solution offers you a lot at a very attractive price!