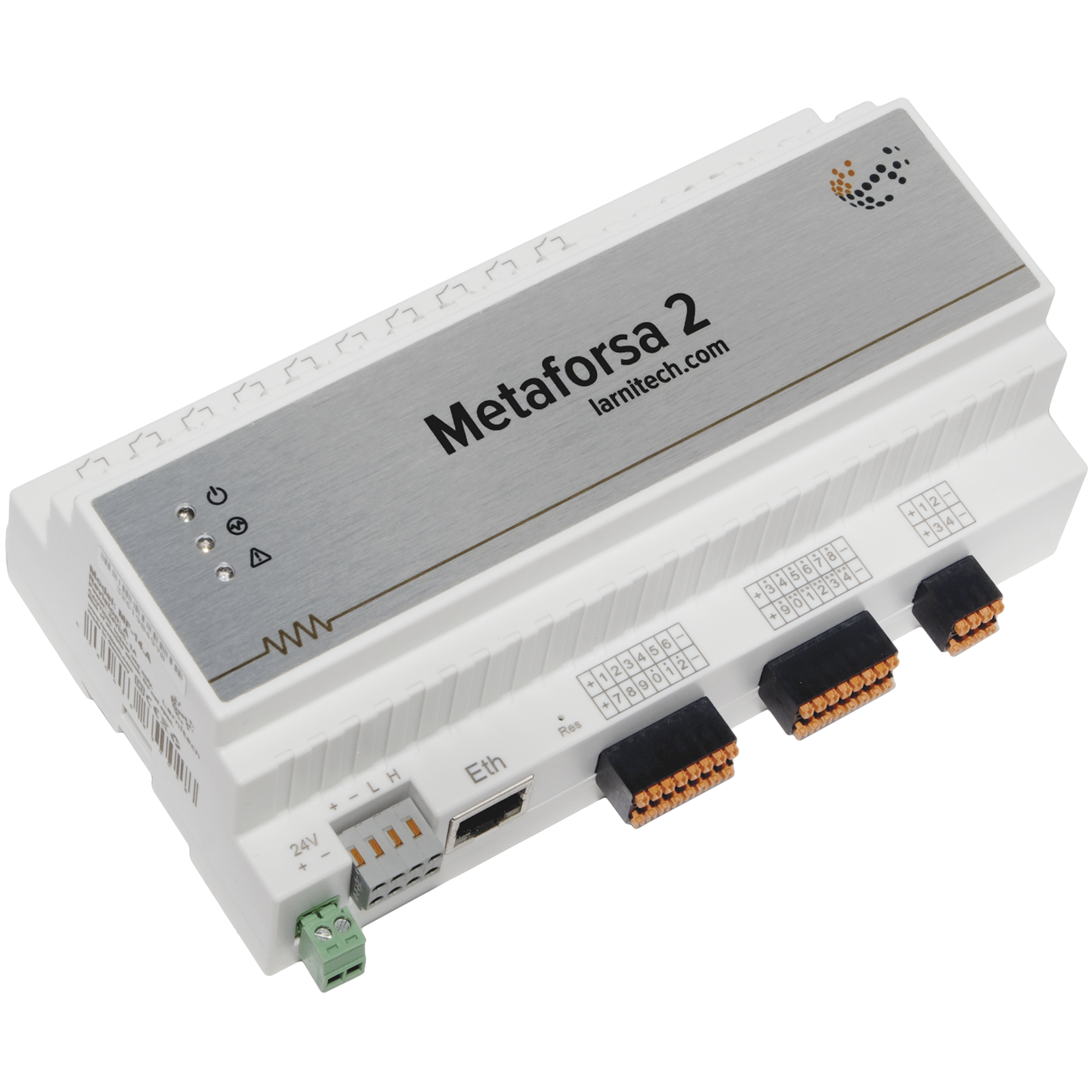 Features
10 universal outputs support:

Lights
NC/NO heating valves
Blinds
1 or 2-pole gates
1 or 2-pole valves
NC/NO locks
Fan coil units

24 Discreet inputs that support:

Buttons
Switches
reed switches
leak sensors
motion detectors

4 dimming channels
4 digital inputs for up to 8 temperature sensors
Extension port
Relays with AgSnO2 contacts rated for 16A and 120A 20ms inrush current
Cloud connection and control of all house systems
Voice control (Siri, Alexa, Google Home)
Plugins engine allows expanding the system possibilities (e.g. integrating with Satel, Philips Hue, IKEA lights)
Safety against unauthorized intrusion ensured with RSA/AES256 encryption
Push notifications from the system on your phone (also possible to receive through Telegram and Viber messengers)
History (meter data for 1 year is stored)
Plug and play (possibility for fast and user-friendly extension of the system)
Regular system updates
Large constantly updated database of scripts to meet all your needs
Automatic daily backups via cloud with the possibility to restore the initial configuration
Open API (which allows integrating Larnitech into other systems)
Interactive and user-friendly LT SETUP Web interface available for advanced configuration
Plug and play
It is a completely ready-to-install Smart Home system kit
METAFORSA SMART HOUSE is a ready-made solution for automation of residential and commercial premises, hotel complexes which includes the most highly desired features of Smart House.
The device has 10 control channels, 4 dimming channels, 24 incoming sensor channels, and a digital sensors' connection port.
Metaforsa can be controlled via cloud with a securely encrypted signal. The system history from all other devices and sensors is stored on the device for one year. Its plug and play feature means that it automatically detects and configures new Larnitech devices that are added to the system. A large and constantly updated database of ready-made scripts ensures that your home is able to satisfy your most complex requests. This universal unit is able to control lights, various types of valves, blinds, gates, locks and fan coil units (see full list below). Get things going by telling your home what to do with the help of Siri, Alexa or Google Home. Get push notifications on your phone whenever the system has things to tell you and enjoy the ultimate control at your fingertips. The Metaforsa kit is ready to be installed and serve your needs as soon as you take it out of the box!
Module parameters
| | |
| --- | --- |
| Output channels qty | 10 |
| Discrete input channels qty | 24 |
| Dimming channels | 4 |
| Digital input channels qty | 4 |
| Input voltage | 0-250 V |
| Current type | AC/DC |
| CAN bus network topology | BUS |
| Max load per dimming channel | 0.5A (110W at 220V) |
| Max load per channel | 16A |
| Max load per device | 160A |
| | |
| --- | --- |
| Power supply | 11.5 … 27.5 V DC |
| Max current(24V) | 0.5 A |
| BUS type | CAN |
| Equipment installation type | DIN rail(EN 60715) |
| Case material | ABS |
| Protection | IP40 |
| Temperature range | -10 ... +50 °C |
| Size | 9U, 156x90x58 mm |
| Weight | 400 g |