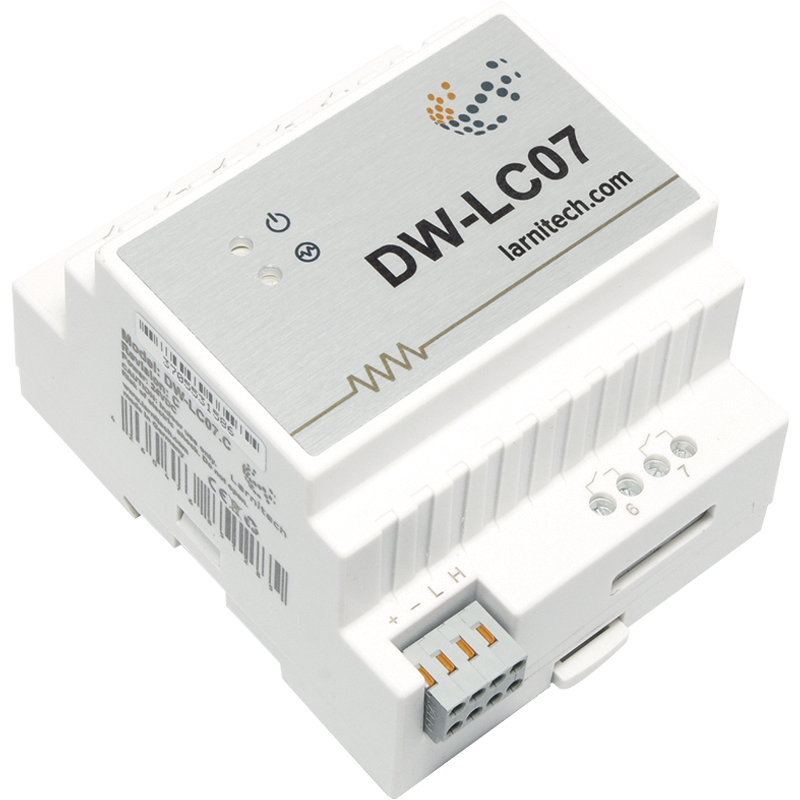 Features
Control of a wide range of devices:

Lights
NC/NO heating valves
Blinds
1 or 2-pole gates
1 or 2-pole valves
NC/NO locks
Fan coil units

Relays with AgSnO2 contacts rated for 16A continuous load and 120A 20ms inrush current
Low noise relay switching
Fast and easy mounting/dismounting of connectors
Built-in logical unit
Plug and play feature
Regular software updates
This module is designed for high power AC/DC circuits commutation.
Used for light, power sockets and other electrical devices.
This universal unit is able to control lights, various types of valves, blinds, gates, locks and fan coil units, etc. The relay is a low-noise one and features special high-performance contacts rated for 120A 20ms inrush current. Like all Larnitech devices, this control unit is automatically detected and configured when it is added to the system. DW-LC contains a logical unit, which makes it possible for the unit to perform scripts from Larnitech's large and constantly updated database and to operate on distributed logic, ensuring the reliability of its operation.
Module parameters
| | |
| --- | --- |
| Output channels qty | 7 |
| Input voltage | 0-250V |
| Current type | AC/DC |
| Max load per channel | 16 A |
| Power supply | 11.5 … 27.5 V DC from CAN |
Max current(24V)
150 mA
Permissible section of power supply cable to connect in socket:
single-conductor cable
multiple-conductor cable
tipped multiple-conductor cable
0.5 … 4mm2
0.5 … 4mm2
0.5 … 2.5mm2
Bus type
CAN (4-wire)
Equipment installation type
DIN-rail (EN 60715)
Case material
ABS
Protection
IP40
Temperature range
-10 … +50 °C
Size
4U, 69x115x58 mm
Weight
180 g