Smart home system for an apartment is a completely new level of life and comfort. Your home literally becomes Smart: it knows when to turn on/off, open and close any mechanism or system in your apartment  to relieve you of routine tasks, make your life safer, easier and more pleasant.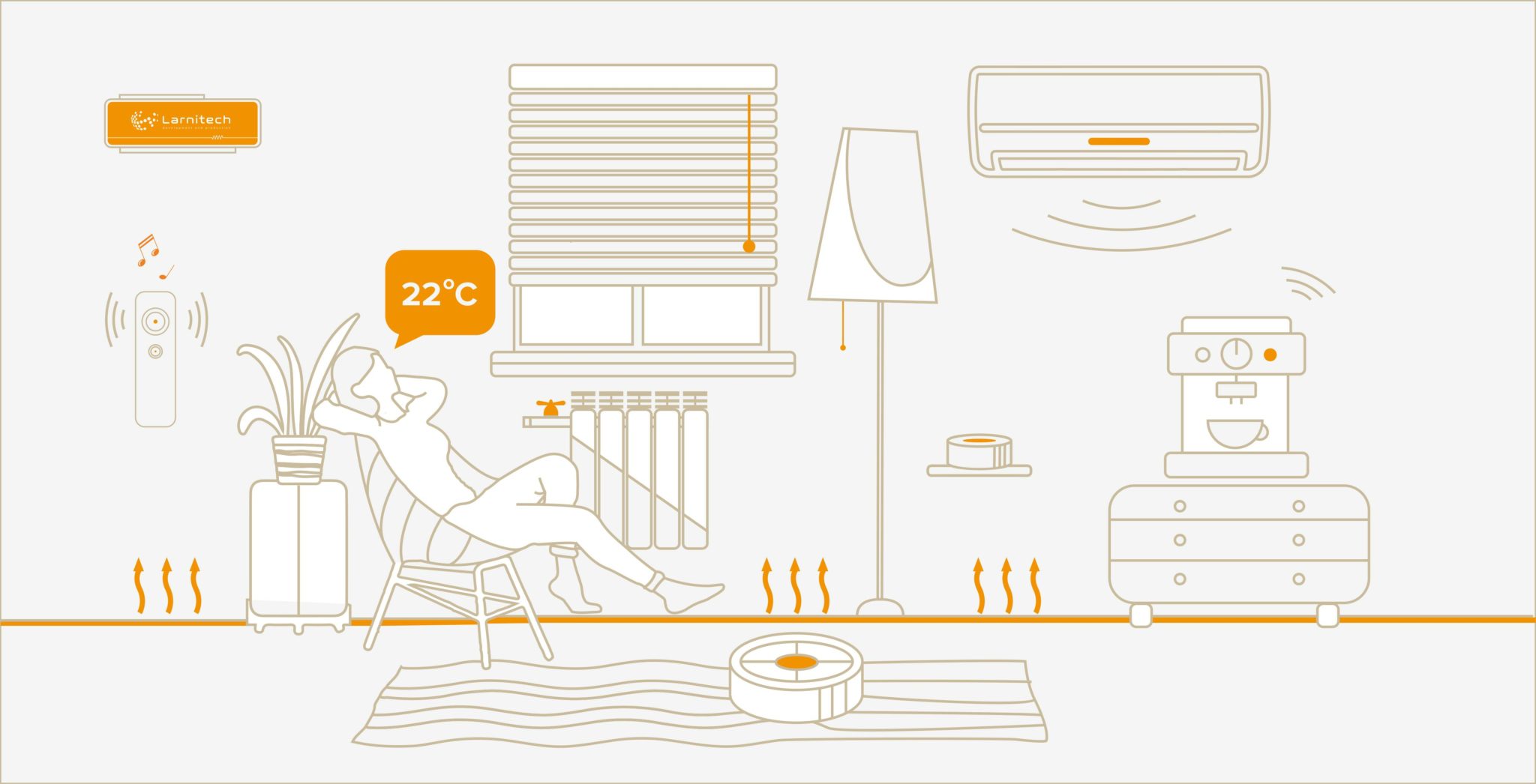 Capabilities of the Smart Home system
Thanks to modern technology, you can remotely manage your home while at work or on vacation. Anytime and anywhere – your apartment is inside your smartphone.
The main functions of a Smart Home are:
Climate control

Security systems

Appliances control

Curtains and blinds control

Lighting control

Ready scripts and scenarios

Voice assistants

Door and window closing control
The functionality also depends on which manufacturer you choose and which smart home you install into your apartment.
ДLet's imagine your day in a Smart Apartment with Larnitech system:

Smart Home system wakes you up with your favorite music and half an hour before this activates floor heating. A cup of coffee automatically prepared by a coffee machine is waiting for you in the kitchen.
After breakfast with the help of Larnitech App or using a voice assistant, you launch the robot vacuum cleaner, which will clean the crumbs near the table.
You are leaving for work. The apartment automatically switches to energy-saving mode, unnecessary electrical appliances are turned off, and the alarm is activated.
During your absence, the system monitors leaks, fires, windows and doors closing. If a leak occurs or the level of CO2 increases, the system will instantly inform you about this and shut off the water valve or gas supply.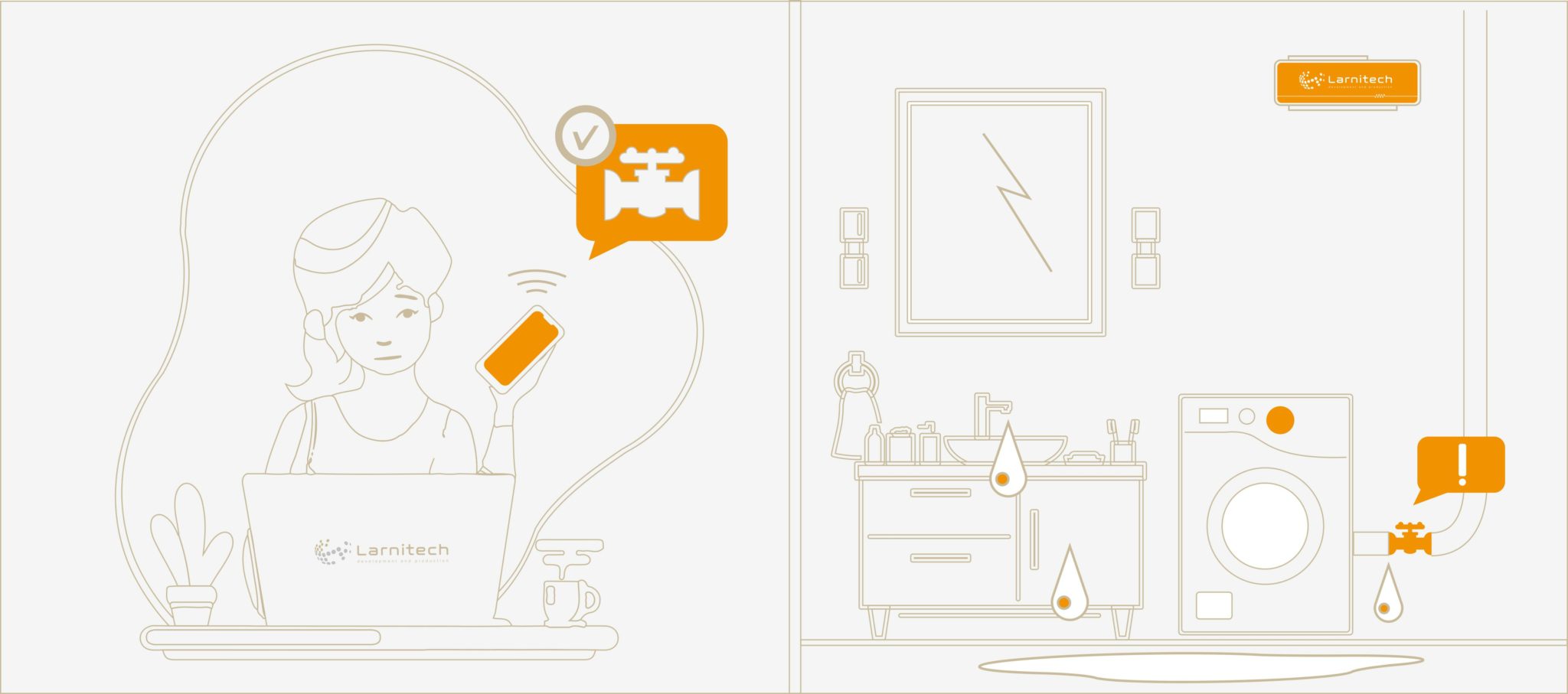 In the App you can check cameras and see what exactly happened in order to decide how to react: turn on the water supply again, call a service company, or open windows for ventilation (in case carbon dioxide levels rise).
The system of biodynamic lighting will control the amount of sunlight that enters your apartment. If there is too much of it, curtains and blinds will be partially or completely closed to avoid fading of the furniture.
If someone rings at your door, the call will also come to your phone. Through Larnitech smart intercom, you will see visitors, talk to them and, if necessary, let them into your appartnemnt by opening the door remotely.
When you are back home, the lights will be turned on automatically.  "Music Follows the Host" scenario will help you to relax after work by accompanying you with your favorite songs from one room to another.
After the dinner, with a push of just one button you can turn on a ready scenario "Movie", which:After the dinner, with a push of just one button you can turn on a ready scenario "Movie", which:
automatically closes windows and blinds

switches off the main light and activates the backlight

turns on TV and acoustics.
The lighting in your apartment will become warmer in order to relax your nervous system and prepare your body for sleep. Right from your phone you can choose any color of lighting from the Larnitech RGB panel down to the smallest shade you like.
Lighting plays a decisive role in design, even a slight change in the color of lamps can dramatically transform the room. So, this is also a great solution for creating a cozy atmosphere and changing the interior.
You go to bed. The apartment is put on an alarm and automatically goes into energy saving mode. Climate control plays a crucial role in this: it intelligently coordinates heating, air conditioning, ventilation, and floor heating systems with each other. The same system will set and maintain an optimal level of humidity so that you do not breathe dry air during your sleep.
In case of intrusion, motion sensors and video surveillance cameras will immediately detect violators, activate the alarm and send a message to the security company.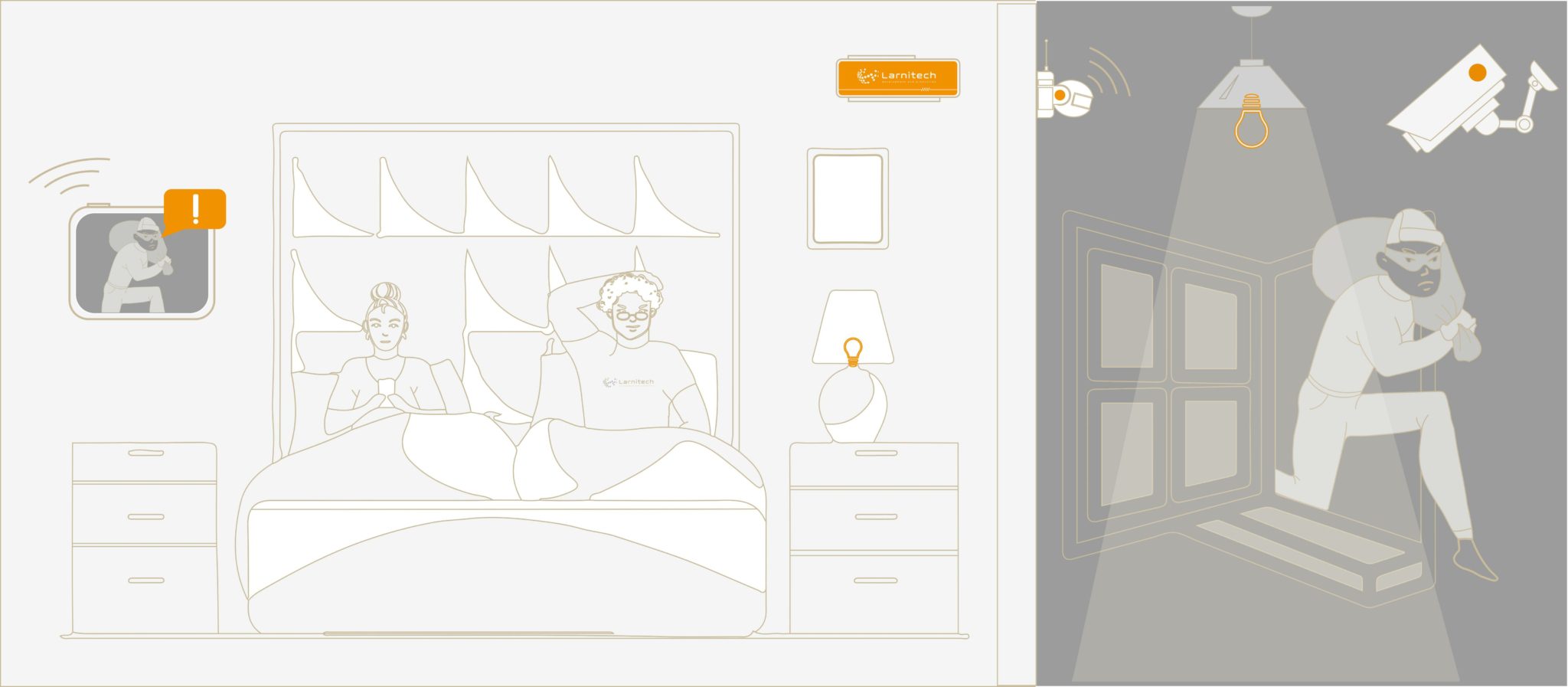 Smart apartment project
Usually people do not know how to install a Smart Home system. First of all, you should start with a consultation of a certified specialist.
Initially, a specialist will review the layout of your apartment,  ask you about your preferences, and finally offer you the best solution that meets all your expectations.
The next step is cost estimation. For example, Larnitech dealers can upload your apartment project and make all calculations in the dealer panel right on the Larnitech website. In this panel, it is easy to make adjustments to your wishes and send it directly to your mail for approval.
Smart home system for an apartment – ready-made solutions
Larnitech offers the simplest automation solution for apartments on the market. The Metaforsa kit is a basic set of devices for home automation, ready to use right out of the box. It consists of:
Metaforsa main block

2 leakage sensors

3 motion sensors

4 window and door sensors

4 temperature sensors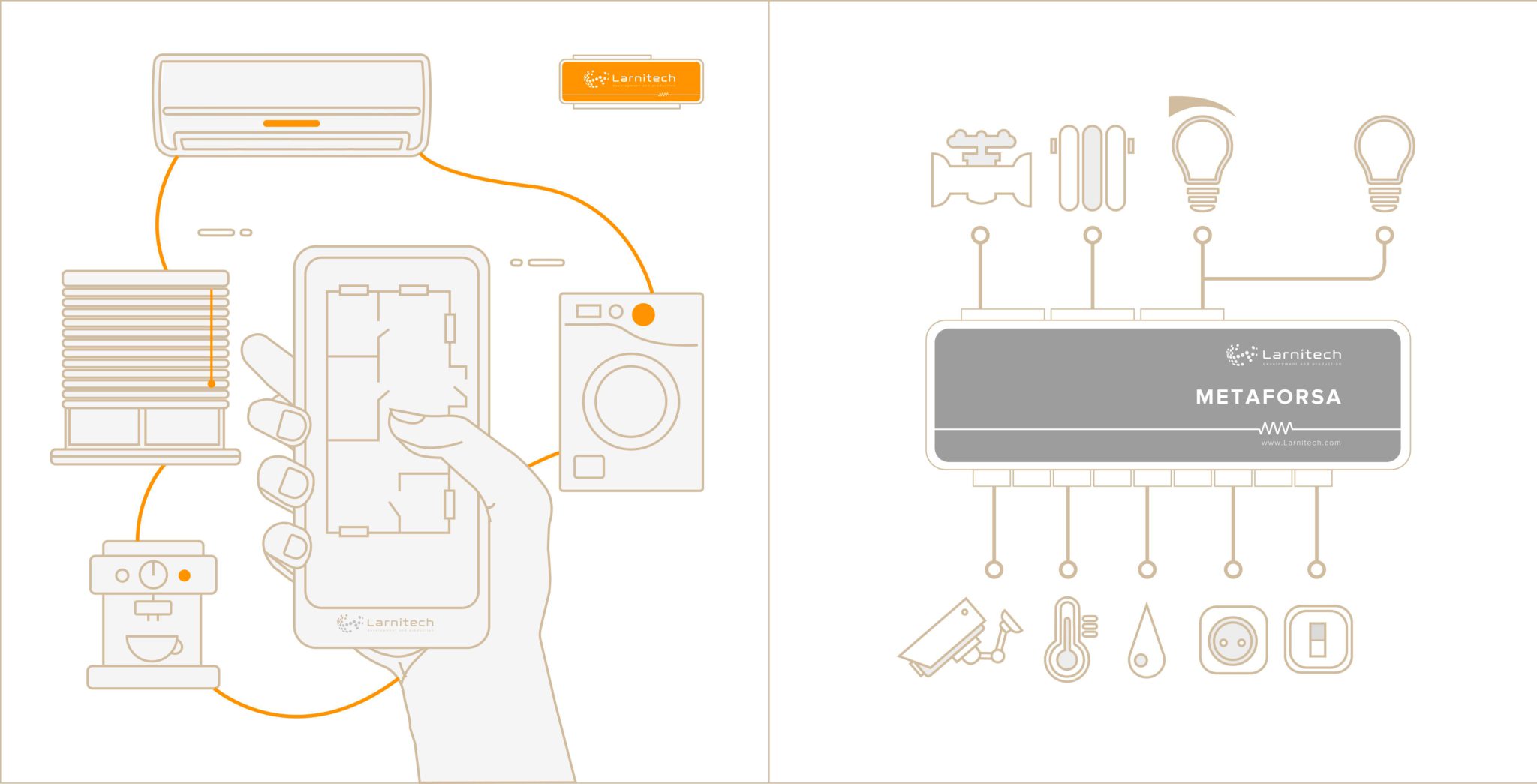 Metaforsa is suitable for the following projects:
Smart home for a one-room apartment – one set will be enough to automate the entire apartment. The installation process only takes a couple of days.
Smart home for a two-room apartment – one Metaforsa kit with extensions. Installation can take up to 7 days.
A smart home for a three-room apartment is calculated individually depending on the tasks.
Turnkey Smart House System
Our dealers take a comprehensive approach to your apartment, starting from project designing and launching to project maintenance in the future. We  always provide constant technical support to our clients that is included in the initial cost of the project. Also our dealers can fix malfunctions remotely, without coming to your apartment.
Advantages of a Smart Home system for an apartment
Savings
Efficient energy management can save significant amounts on utility bills. For example, if you tell the system to lower the temperature at night by 5 degrees (from 23 to 18), you will save about 30% of energy.
Another savings option could be if you lower the temperature when the house is empty. This doesn't mean that you will be cold later, because the system will raise the temperature again an hour before you return home.
Moreover, closing blinds at night or opening them on a sunny winter day saves about 5% of the energy used for heating.
Safety
Anytime and anywhere you can easily check through video cameras what is going on at home in your absence. Also you can switch the mode when video surveillance will work only if motion sensors are triggered.
Guests can come to you when you are not at home. With Smart Intercom, you can always see them, and either open the door and let them in, or explain that you are not there.
You can create a list of "dangerous" electrical appliances and disconnect them from power remotely to avoid fire. So, you will no longer be tormented by the questions "Have I turned off the iron? And what about the boiler?"
Thanks to remote control systems, you will be able to close or open all doors with one movement and will never again worry whether you have turned the key in the lock or have activated the alarm. All this can be done remotely.
Thus, a modern smart home system, prices for which are quite affordable today, is a reliable "guard" for your home.
Comfort
One of the most popular automation features is automatic close of roller shutters. Running around an apartment and closing blinds manually is quite a tiring job. The system can do it for you: just press one button and all (or just selected) blinds will close.
The same refers to lighting. Usually, when leaving our home, we go around all the rooms and turn off the lights. Smart lighting proposes a great solution – to turn everything off with just one button in the App.
Thanks to the extensive capabilities of remote control systems, your house can independently close windows during rain, wake you up if a fire breaks, call security if an intruder is detected, water your plants, let in and prepare coffee for guests.
Contact our dealers, who will make you your ideal Smart Home!