What is the automation of a country house and how can it increase home security and life comfort?
A smart country house is a combination of all key home systems and devices into one integrated ecosystem that can be easily managed.
What is the difference between a smart home for a country house and a smart home for an apartment? The basic features are the same – lighting automation, climate control, curtains control, electrical appliances control, voice assistants, and much more.
However, when we talk about a country house, there is one fundamental difference – you are not staying there on a permanent basis, which means you cannot regularly maintain it, control security and monitor the area around the house. 
In this case, installation of a Smart Home system will be the ideal solution because it will help you do all this remotely.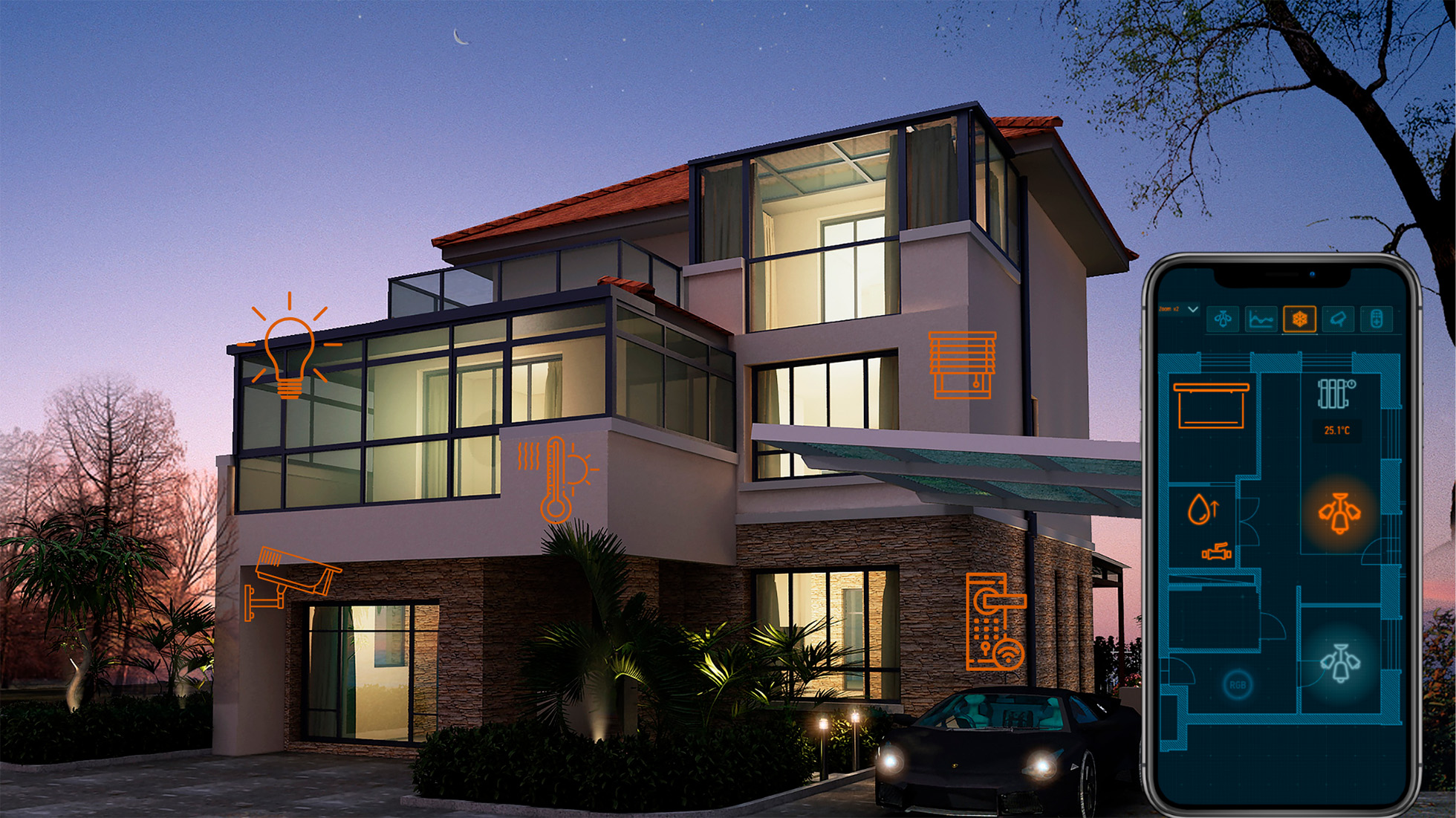 Smart country house. Capabilities
Territory care
Pool control

– You can remotely change water temperature in the pool, check the condition of filters, turn the backlight on.

Lighting automation

– outdoor lighting can be set up according to a schedule or controlled manually in a remote way. You can always turn on lights, backlights, change their brightness or color, while staying thousands of kilometers from home.

Automatic Watering

– you can set up a schedule to water your plants and indicate the exact amount of water per each zone. The system also monitors the level of soil moisture, and in case of heavy rains, it will automatically turn off watering to prevent overflow.

Winter garden management

– Smart Home will maintain an optimum level of humidity and temperature depending on the time of a year and a day. Also, the system can automatically open and close roller shutters to avoid overheating of plants during high solar activity.
Safety
Leakage and CO2 level sensors

will monitor the state of the systems and notify you of any changes. You can also remotely shut off water and gas supply.

CCTV cameras and motion sensors

control the security inside the premises and around the perimeter. They will also activate an alarm and send a notification to you and your security company.

A smart intercom

allows you to remotely let in a gardener or cleaning personnel and close the door behind them. It also takes a photo of all visitors who came in your absence.

Imitation of presence

– if you don't come to the country house for a long time, then this function will be very useful for you: it will randomly turn on lighting and electrical appliances in different rooms, creating the effect of presence.
Savings
By putting the house on an energy-saving mode, you keep all systems working, but with a minimum loss of energy resources. This can save up to 30% of electricity costs.
Climate control
Right before your arrival, the system will set up a comfortable climate for your stay.
In your absence, the system will maintain the optimal climate for the house. So, your furniture and clothes will not be threatened by dampness and mold, as the system will keep the desired temperature, humidity level and ventilation of the premises.
More features of the Smart Home system can be found here.
Smart home equipment
Smart Home systems on the market can be divided into two categories:
wired (cables, switches, NAS stations)

wireless (WI-FI or Bluetooth)
If you are just building your country house, then the idea of ​​​​a wired system would be the best option. Since it is much more reliable than a wireless system, and when Wi-Fi is turned off, it will still continue to work. Also, another advantage of this type is much faster response time.
Larnitech is a German manufacturer of wired Smart Home system, which manufactures automation equipment at its own full-cycle factory in Germany. The Larnitech team also developed an application that manages all automation systems.
For many years now, we have been successfully helping our clients optimize control and management processes and implement new technologies and specialized solutions for smart homes.
If you want to have a consultation regarding the Larnitech Smart Home system for your country house, please contact us or our certified dealers.
Your Smart Country House
Smart home for a country house is a flexible solution that can be adapted to your individual needs, expectations, habits and lifestyle. Due to its flexibility, each system can have different automation and individual functions.
However, one thing remains unchanged, a smart country house increases the level of safety and comfort, helps to save resources and be more "environmentally friendly".