Larnitech offers a groundbreaking solution for the automation of private houses complexes – a turnkey solution Metaforsa.
One kit with extensions is suitable for automating one house, providing all the basic functions: – control of curtains, climate, leaks, lighting, control of closing and opening doors and windows, voice assistants. Later on a client can expand the functionality of the system using Metaforsa main module.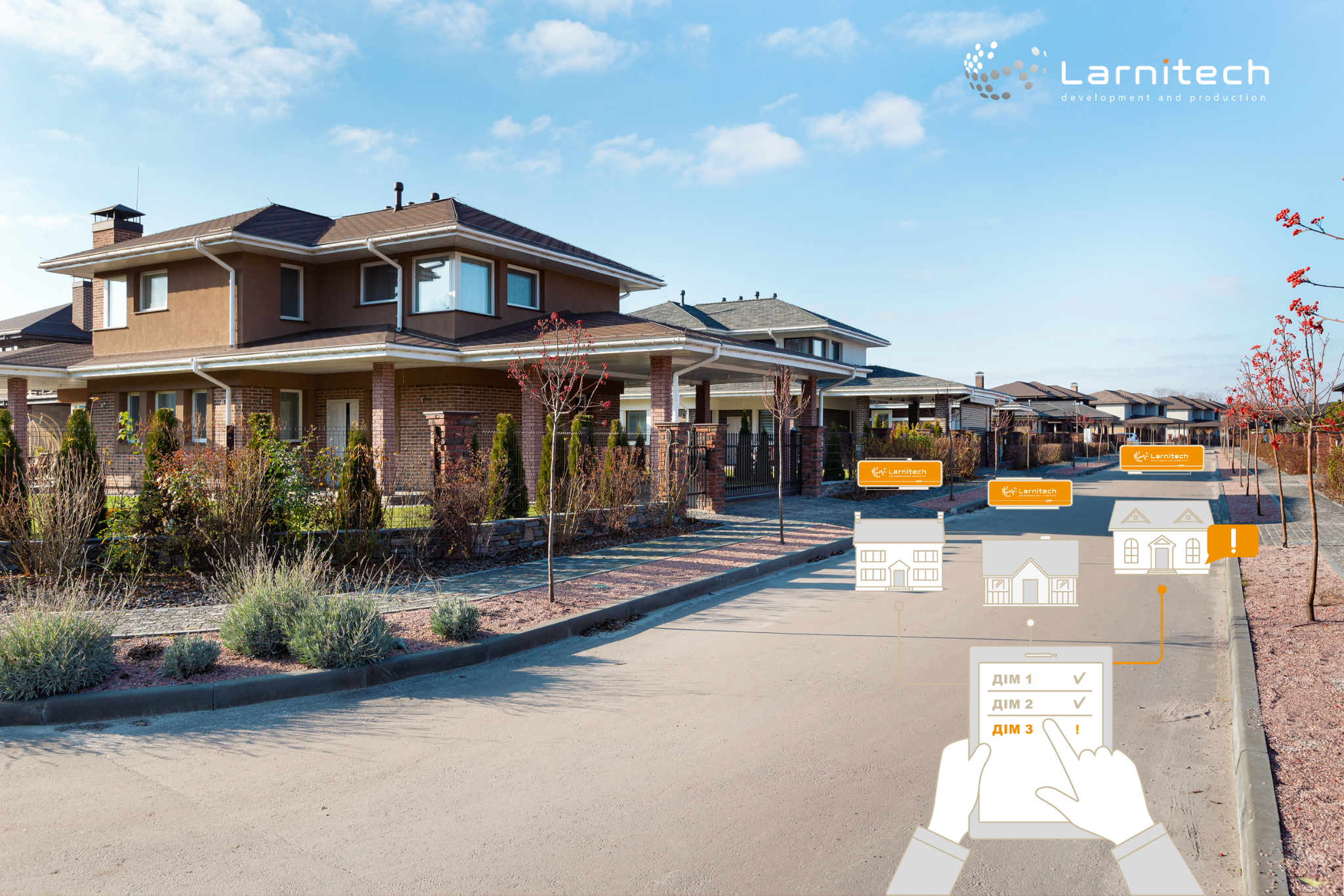 Metaforsa also allows you to manage public areas: lighting, barriers, gates, CCTV cameras, irrigation systems and many others. Moreover, some functions can be available for security guards and other personnel, that drastically simplifies the management of the whole complex.
Management and residents of the country club will have  access to the statistics of energy consumption of each house and public areas. However, this access may be restricted at the request any time.
It is also important that Larnitech dealers can monitor the system operation of the entire complex from their own dealer panel. So, if it's required to make any changes to the system settings – our representative can make them quickly and remotely.
Thus, the affordable price of Metaforsa makes it possible to automate the entire complex economically, but at very high quality, which will be an excellent solution for many developers.
Smart country club – benefits for residents
A smart home for a country club has a variety of possibilities that you will certainly appreciate. How about controlling the whole house from one App or creating different lighting scenarios suitable for different  situations in everyday life?
Automate the process of lights work in the garden, on the terrace or throughout the house while you are away. Also you can control all the functions manually from the Larnitech app.
Smart home solutions reduce energy consumption by meeting the individual needs of each user. Optimization of the heating systems automatically reduces the temperature for the period of sleep or when no one is at home, both in a single room or in different zones  of the house.
Automation combined with intelligent regulation reduces energy consumption by up to 30%!
A smart country club is also a new level of security for your home. Intelligent systems round-the-clock monitor and control the territory, detect attempts of breaking and intrusion and activate an alarm if one is noticed.
Smart home detects fire, leakages, power outages, increased levels of carbon dioxide and much more. CO2, smoke, moisture, lighting, motion sensors guarantee your safety and the safety of your property under any circumstances.
A smart home in a cottage is a new level of comfort in everyday life! The main advantage of the system is that your house does all the processes on its own thanks to the full automation.
Intelligent solutions allow you to create ready-made scripts for the simultaneous work of several automation processes. The use of scripts saves time by freeing you from the daily repetitive actions of pressing various switches, remote controls and screens.
For example, you can program your blinds to open and close at the fixed time, or you can create a script "I`am gone" that allows you to:
turn off all the lights
close roller shutters
lower the temperature
activate the alarm
lock doors and windows.
All this is done with a touch of your finger on the control screen, tablet or smartphone.
To learn more about the possibilities of Larnitech Smart Home system – click here.